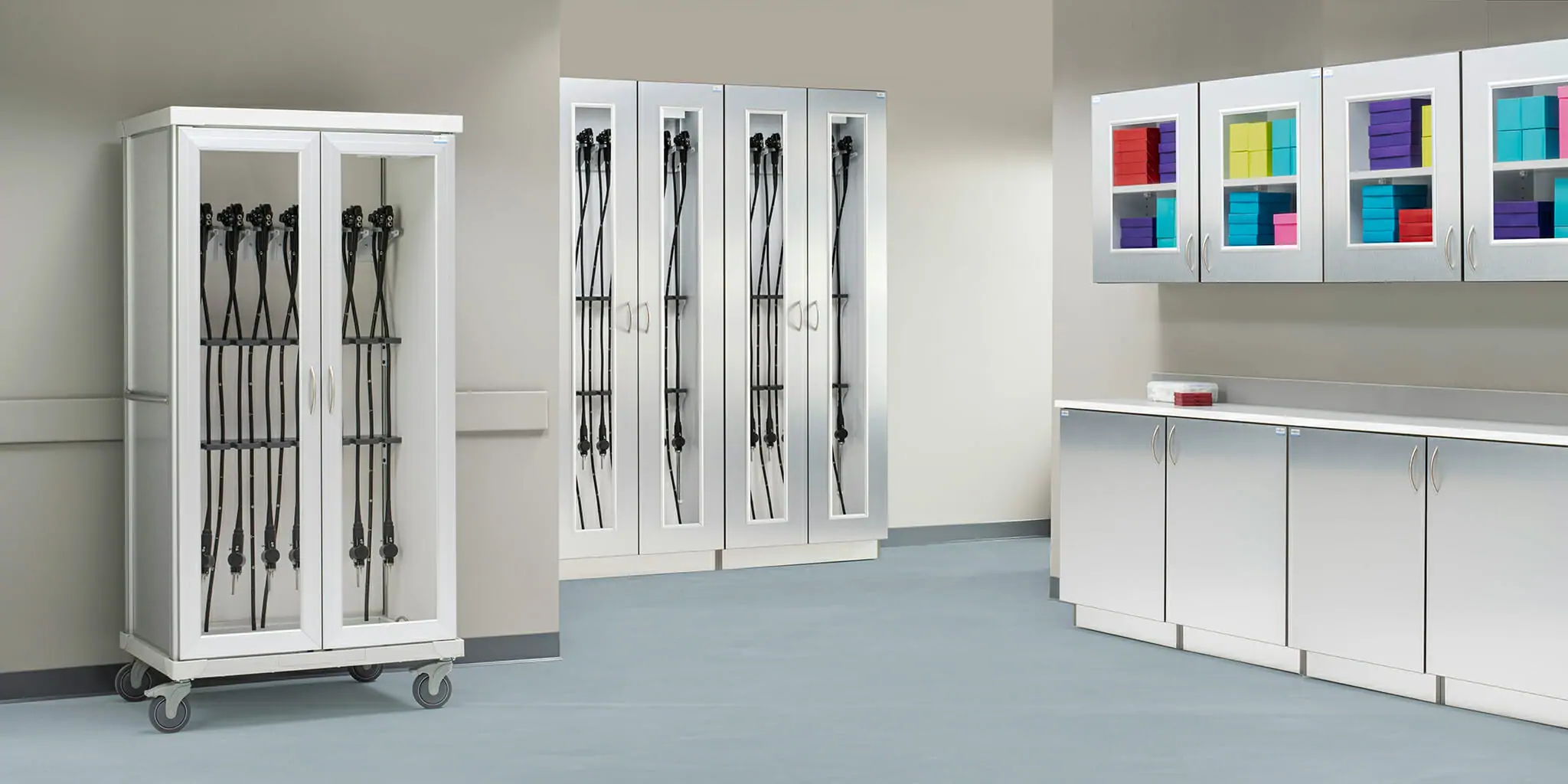 InnerSpace® specializes in solutions for all areas and departments within a healthcare facility. We offer carts, cabinets, open storage, and accessories for supply storage, products with embedded technology for improved efficiency and security, and the Ventaire™ Endoscopy System for the storage, drying, transport, and reprocessing of endoscopes.
Who We Are
Coming full circle is the story of the InnerSpace journey. In the 1980s, the current leaders of InnerSpace launched Datel, a small medical storage business. Datel evolved into InnerSpace and grew into an established company focused on manufacturing department-specific hospital storage products. In 2008, InnerSpace was sold, and a few years later Solaire Medical was born, led by the same leadership that launched the original InnerSpace. Solaire Medical's mission was to take the medical storage knowledge honed since the Datel days to further innovate the design, materials, technology, and construction of storage for healthcare.
In 2018, Solaire Medical acquired InnerSpace, and InnerSpace Healthcare was born. A reinvigorated company with the combined expertise, experience, and innovation developed over the years is evident in a portfolio of products and its knowledgeable team of territory sales managers, customer service representatives, and service representatives who create value for customers by improving the organization of equipment and supplies and the efficiency of staff.
What We Offer
Breadth of application
Our broad offering of mobile and stationary medical storage products addresses department-specific equipment and supplies as well as general supply management. The Ventaire Endoscopy System focuses on the endoscopy department and endoscope reprocessing and storage, and products with embedded technology and connection to the InnerSpace Cloud platform streamline their operation and management. If your needs can't be met through our standard offering, we can design and build just what you need. Our agility ensures you'll have a custom solution without long lead times or high costs.
Planning expertise and service
Our sales team and customer service representatives help you plan, select, and specify your products, including on-site consultation of your storage spaces and work flow processes to help you plan the best approach to the storage, transport, and security of supplies and equipment. On-site and on-demand training is available to customers who purchase products with embedded technology and InnerSpace Cloud services.
Innovative solutions
InnerSpace has its roots in storage products, but we continue to grow and meet the needs and demands of the medical community. The Ventaire Endoscopy System offers a range of products that dry, reprocess, store, and transport endoscopes. Integrating technology and automation features aid staff in the safe drying and handling of endoscopes. And the InterConnect lock system includes features to control access levels and security. When connected to the InnerSpace Cloud platform, the management of Ventaire and InterConnect products can be done from anywhere, streamlining the work of administrators. Communication offered through the cloud platform provides administrators with real-time alerts and reporting features, information that is especially important in meeting compliance standards.
Privacy Policy
Learn about the information we collect and your privacy options.